Rennie
®

Duo Suspension for the relief of Heartburn, Indigestion and Acid Reflux

18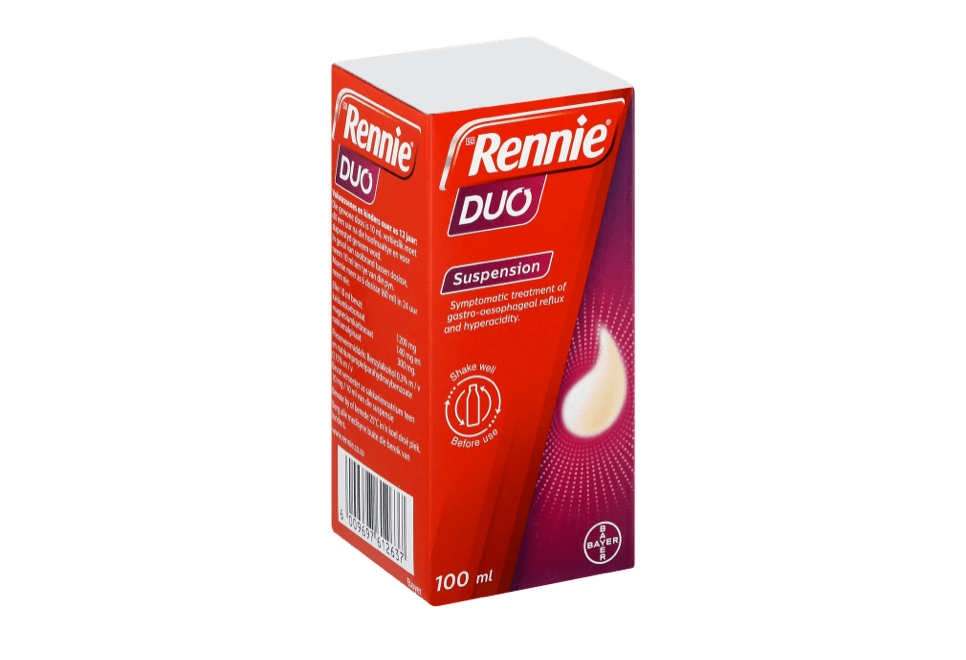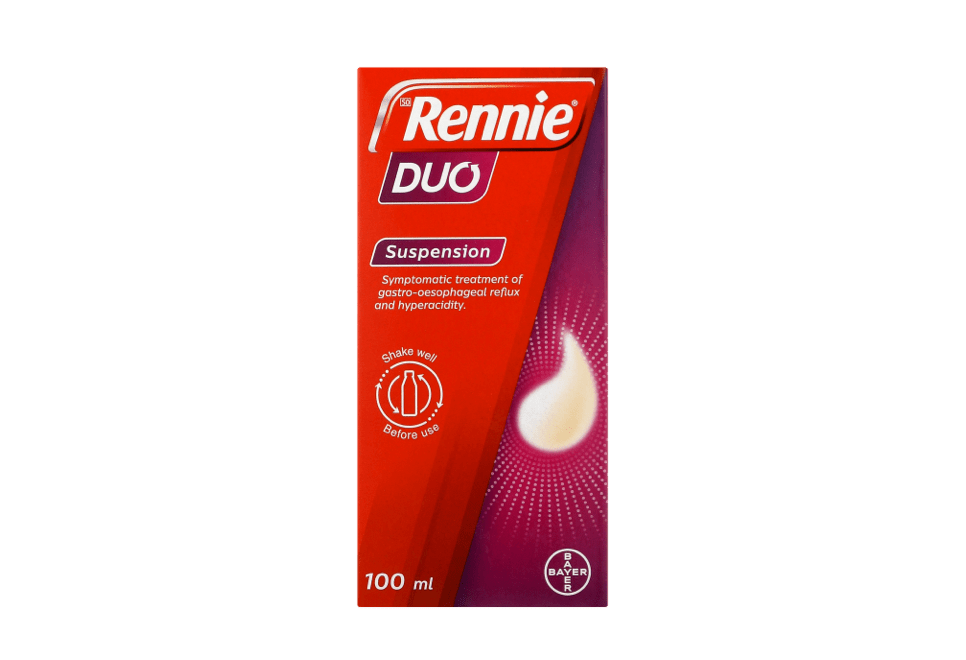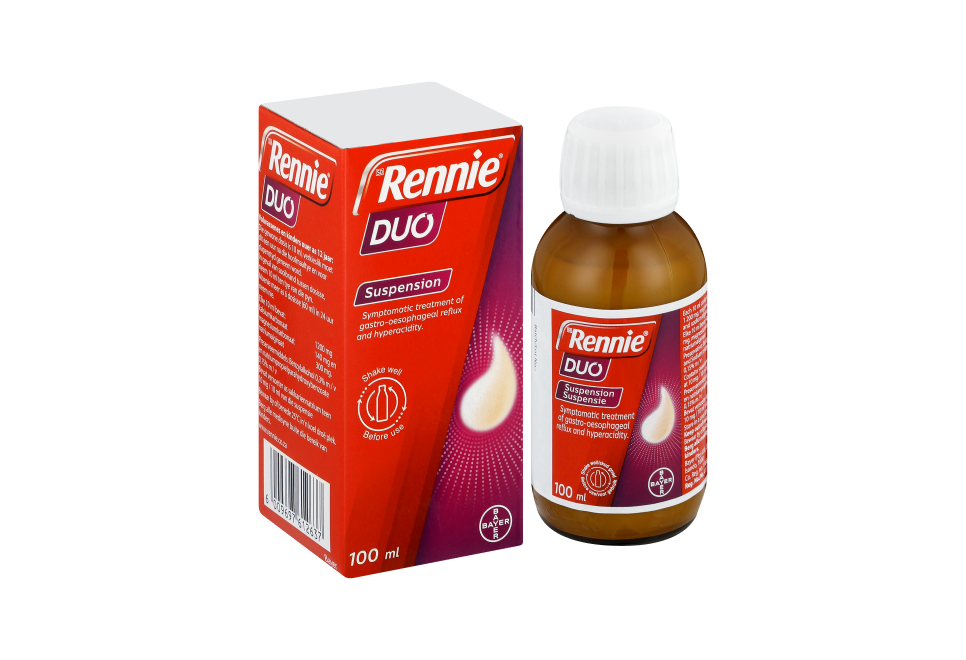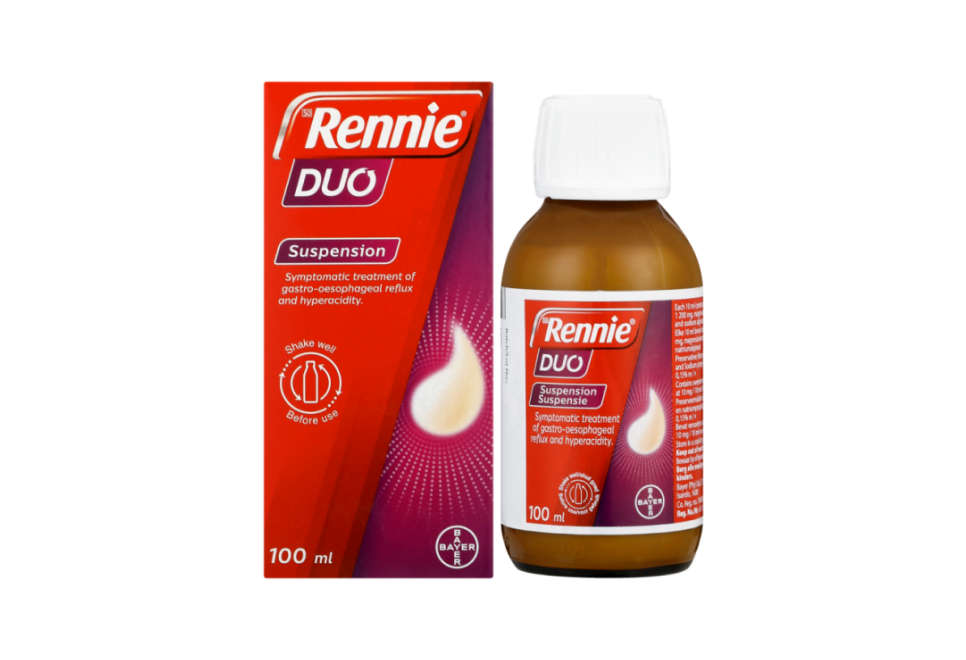 Rennie
®

Duo Suspension for the relief of Heartburn, Indigestion and Acid Reflux

18

RENNIE® DUO SUSPENSION18,19

With its dual action, Rennie® Duo combines its raft-forming and acid-neutralizing properties to provide comprehensive relief and protection from reflux than either action alone. Its high antacid content may potentially act to raise the pH of the 'acid pocket' that has been shown to be involved in heartburn while the 'raft' formed provides long-lasting protection against heartburn. The liquid can be taken day or night for fast relief and may be used during pregnancy & breast-feeding if taken as instructed.

Always talk to your doctor or pharmacist before taking any medicine during pregnancy. Always read the label. If symptoms are severe or prolonged, talk to your doctor or pharmacist.
 

RENNIE® DUO SUSPENSION DOSAGE18
Shake well before use.

The usual dose is 10 ml, preferably to be taken one hour after the main meal and before going to bed. 

In case of heartburn between doses: take 10 ml at the time of pain.

Do not take more than 8 grams calcium carbonate (corresponding to 60 ml suspension) per day.

This medicine is only for adults and children over 12 years.

The duration of treatment is limited to 14 days.
RENNIE® DUO SUSPENSION INGREDIENTS
*Each 10ml contains:
Calcium Carbonate: 1200 mg
Magnesium Carbonate: 140 mg 
Sodium Alginate: 300 mg
Other Ingredients: please see leaflet for more information
Recommended for
[S0] Rennie® Duo Oral Suspension. Each 10 ml contains calcium carbonate 1 200 mg, magnesium carbonate 140 mg and sodium alginate 300 mg. Reg. No. 41/11.4.3/0449. Always use as directed on the label.
TIPS & ADVICE
Take a look at our tips and advice on how to have a happier digestive life.